Has anyone ever had Cowgirl Cookies? I think it's a generic name for a kind of cookie made with oats and nuts and healthy stuff (plus some dark chocolate chips!). I had one at Pomegranate Café for the first time a few weeks ago, and decided that I HAD to find a recipe and make some of my own. (For $3 a cookie, they better be that good!). I found a recipe from The Baking Stone, and tweaked it to my liking.
Stacey's Cowgirl Cookies
2 cups oatmeal
2 cups whole wheat flour
1 tea baking soda
1/2 tea baking powder
1/2 tea salt
1 tea cinnamon (I think I added a tad bit more, like 1.5 tea)
2/3 cup Splenda (or whatever kind of sugar or sugar sub you prefer)
1 cup unsweetened applesauce
(at least) 1 cup vanilla soy milk (any kind of milk will do)
1 tea vanilla extract
1-2 tea ground flaxseeds (I said healthy!)
1/2 cup unsweetened coconut
1 cup Nestle Toll House dark chocolate morsels (oh yeah!)
1/2-3/4 cup chopped walnuts (toasted or untoasted)
1/2-3/4 cup pomegranate Craisins (or raisins)
You mix together all of the dry ingredients up to the cinnamon. Mix the Splenda through the flaxseeds in a separate bowl. Slowly add dry ingredients into the wet ingredients. Here is where the "at least" part of the soy milk can vary. When I made these for the first time, before I even added all of the dry ingredients, I knew the mixture was too dry. I added more milk to help the ingredients mesh better together. You want the end mixture to be pretty thick, but you want all of the oats to have been stirred in well and not dry. Does that make sense? The mixture feels a little tacky to the touch. Then, fold in the coconut, chocolate chips, walnuts and dried fruit. Form into balls that are just a bit bigger than golf balls. Put them on a parchment paper covered baking sheet, and bake at 350* for about 12 minutes!
I have no idea how many calories and fat grams these have, and I don't care! You can see that the ingredient list is very healthy, so don't be too paranoid of indulging. I usually grab three on my way out the door in the morning….and a couple when I am done with dinner….and a couple when I wake up at 3am,… You get the point. They are SO good!! You can substitute any kind of nut, dried fruit, etc. Make the recipe what you want! Don't put in coconut, it's ok! I think this last batch, I added come slivered almonds, too.
Ali really wanted some, too, but I had to remind her that chocolate is not for dogs!
I had a fantastic run with my friend Sue today around Tukee! We did 4 miles, and kicked some serious butt! I should've taken a picture…..it was such a good run that, being the dedicated and smart crazy insane pain loving runner that I am, I decided to take an ice bath.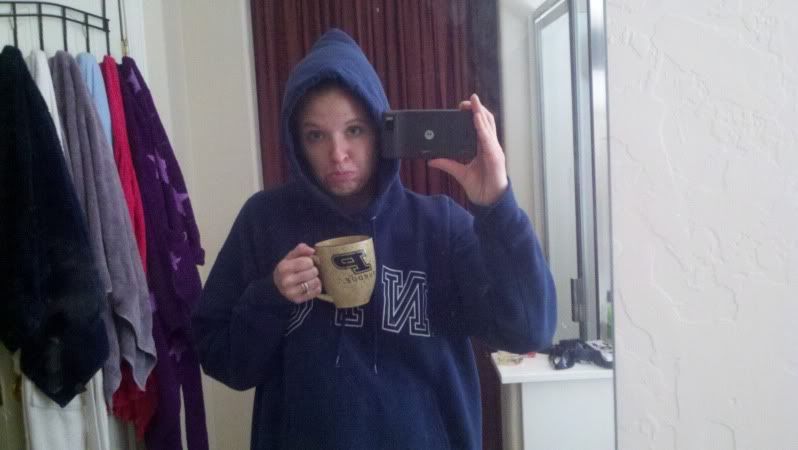 Party ice time everyone!!!!
I am currently reading Mile Markers by Kristin Armstrong. It's pretty good so far. Has anyone else read it? Did you like it? I am going to read Hunger Games next, because I keep hearing about how good the books are. Do they live up to their hype?
Let me know if you make the Cowgirl Cookies, and how they turn out! What did you do to workout today? Have you read either of the books I mentioned above? How did you like them? Leave me some love!!
Happy Trails!
Stacey