You know it's a big deal when they have pre-made signs for the event with the event's actual name on it!
This past Saturday was the 8th Annual Pat's Run here in Tempe, AZ. If you don't know Pat Tillman's Story, you need to. Stop reading my blog, and read this before you go any further.
I have only been running since October, so I did not participate in this event last year. A lot of my friends did, though, and they all talked about how awesome it was. Almost every runner friend I have ran Pat's Run this year. I couldn't miss it.
After a night of crappy, interrupted sleep totaling about 4 hours, I was up at 5am to get ready. Sue met me at our house so we could caravan over to Tempe. We planned on parking and riding the Light Rail over to the race to try and avoid traffic. Evidently, so did everyone else! We had to skip the first train because it was so full, no one else could fit on it! We eventually made it on the next train by forcing our way on. We were NOT going to miss this race!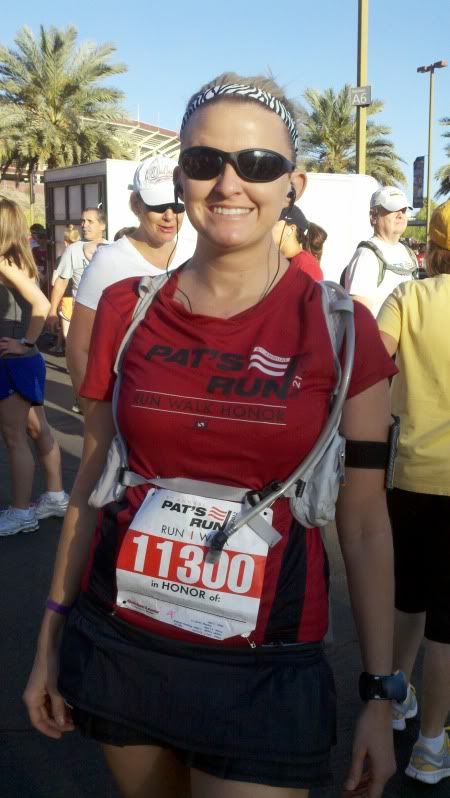 We made it just in the nick of time to be able to use the porta potty and jump into our corral. The crowd was massive and amazing! It was SO cool to see so many people in support of this amazing person!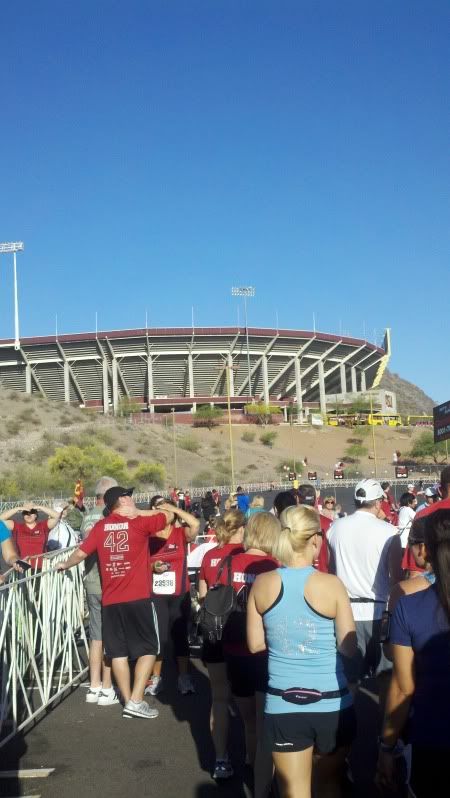 Before we knew it, we were off!
We kept it at a nice conservative pace the whole time (somewhere between 9:30 and 10:00 per mile I think), and it felt fantastic!
We went over Tempe Town Lake (TTL) via the Mill Ave bridge, then up Curry Rd and over its massive hill! It kicked my ass during the Skirt Chaser, but not this time!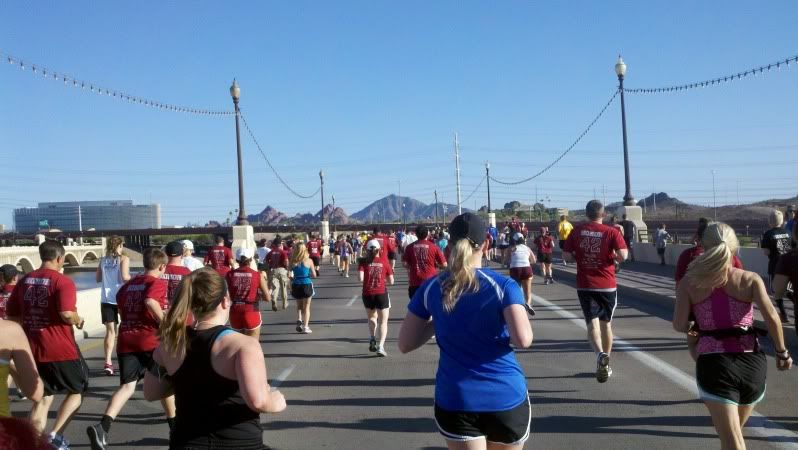 Then, back down the hill and around to Scottsdale Rd, and back over TTL via the Rural Rd bridge.
After getting to the other side of TTL, we then turned back west again and towards Sun Devil Stadium where the 4.2 mile race ended at the 42 yard line, in honor of Tillman's jersey number, #42.
Sue and I sprinted to the finish, where we finished in 41:02 and 41:03, respectively. What an amazing race! The finish line was one big party!
I met up with some fantastic ladies from the AZ Bloggers Network after the race for brunch at Chompies. It was so yummy! Then, I headed home for a much deserved nap.
This is a must-do race if you live in the Phoenix area. Just be sure to give yourself plenty of time in the morning to get where you need to be. There were 28,000 registered participants this year, so the race was completely sold out! Register early next year!! You don't want to miss out on this one
.
Who ran Pat's Run? Did you love it?
Have you run a full marathon?
How did you decide to train for a full vs. a half marathon?
Happy Trails!