Two weekends ago, I got to visit San Diego for the first time in my life. I know, right!? How on earth did I go 30 years (eek!!) on this earth without having been to America's Finest City? I'm not sure either, but I definitely know I was missing out!
Ari and Steve graciously offered to let me ride and room with them on our trip. Thank God, because Cameron would've rather dropped me off, and come back to pick me up himself than let me drive there by myself! I am grateful to them for their hospitality and for letting me share my first SD trip with them!
On the way out of town, of course, we had to load up on the caffeine. No trip would be complete without some Dutch Brothers and a Tootsie Pop!
I had a sugar free strawberry and coconut Italian soda. I hadn't had one in years, and I can't believe I forgot how good they are!
Little known fact: I was a barista at a coffee shop in college. I know how to work an espresso machine, and I've had my fair share of Italian sodas. Yum yum! No wonder I have a coffee problem!
Anyway, it took us about 5.5-6 hours to get there. We got to our hotel around 10-10:30, waited in line to check in for like 20 minutes, then headed right to bed.
The next morning, we woke up bright and early to get breakfast. We went to a place called Snooze, which turned out to be SO good!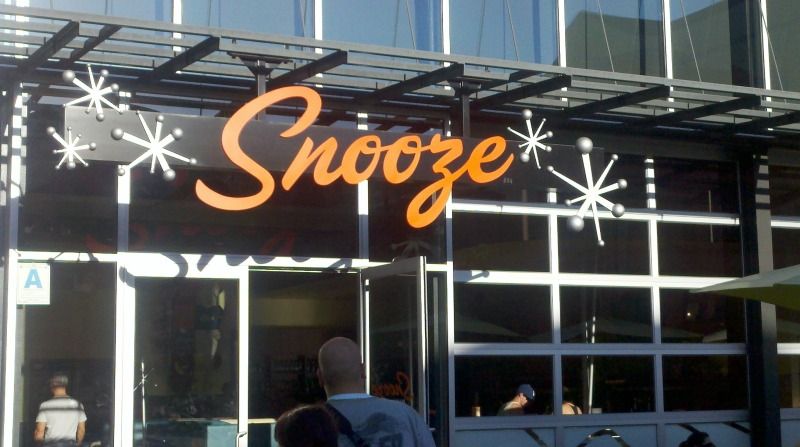 We sat outside, and got to see some dogs and their owners dining on the patio for breakfast. One was a French Bulldog, and he was SO cute! It made me wish my Tater was with us!
They had really super cute yellow coffee mugs that reminded me of Winnie the Pooh's honey jar. I really wish I could've taken one home!
For breakfast, I had the Vanilla Almond Oatmeal Brulee from the "Like a Feather" section of their breakfast menu. It was absolutely fantastic!
After breakfast, I got a much needed pedicure to waste some time before the race expo opened. Around 10am, we headed over to the host hotel for the expo. Now I don't know about you, but I LOVE expos! I don't know if it's the shopping, the atmosphere, or both, but they are my favorite! It drove Cameron nuts when we went to the Diva's expo, and I'm sure Steve was tired of it by the end. So thank you Steve for being so patient while we were there!
Look how fun it looked! It was fun, for sure!
I had to pick up some Gu for the race, and really wanted to stop by BIC Bands to meet Sandy, the owner! I am a huge fan of BIC Bands! I wrote a message to Sandy on Facebook to see if they would be at the expo, and she said yes!! How exciting to get to meet her!
BIC Bands are the first headbands I've ever purchased that stayed on my head, and didn't give me a headache! They are so cute, too! I never run without one! I will be doing a review on them very soon.
This wasn't the best quality picture, but I will have a much better one posted when I do the review. Be sure to check back soon to see it!
One More Mile was there. That's where I got my shirt that says, very appropriately, "If You See Me Collapse, Pause My Garmin."
This was a really cute outfit from Running Skirts that I wanted, but it had no price tag. I got scared, and realized that I have a lot of running clothes, and probably didn't need to spend money on another outfit. (So I'll wait until I have a special reason to buy a new outfit and order it online
.)
After leaving the expo, we went back to the hotel room to change for the beach. Once changed, I discovered something amazing on my way to the car:
Is this not the most beautiful sight you've ever seen!? Those of you who know me, know that I LOVE Zero Carb Rockstars! It's rare to see me walking around work or out running errands without one in my hand. They were only $2.00!!! In California! In a vending machine!!! I am so easily excited….
After discovering my awesome Rockstar machine, we left for Coronado Beach. What a beautiful sight! This is crossing the bridge onto Coronado Island:
Almost there!
Someday when I win the lottery, we're moving here….
and living here….
Yes, you'll all be invited. No worries.
On our walk to the beach from the car. We had to park a bit far away since it was so busy.
Look how beautiful! I could've spent a week here!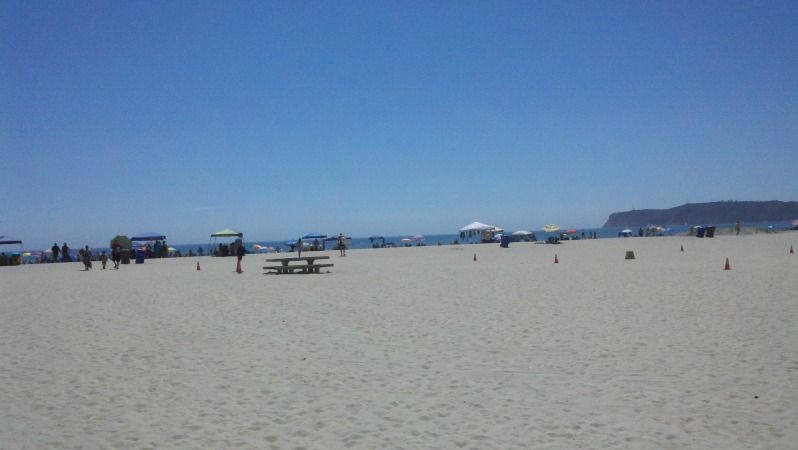 The last time I set foot on a beach, it was 50 degrees in Malaga, Spain in March 2010 on our honeymoon. I was definitely ready for some sand and sun time!
Glad I got a pedicure so my 8.5 toenails would look good for the picture.
Since I've lost an entire pug's worth of weight, and will now wear a bikini in public, I couldn't resist a pic on the beach!
That's it for now. Stay tuned for Part 2 coming very soon!
Happy Trails!
Stacey