My goal is to cook at least one healthy "home cooked" meal each week. More than one would be optimal, but I am realistic. I hardly have time to boil water and make pasta as it is!
This week, I decided to make Mustard and Herb Panko Parmesan Chicken Breasts with Greek Yogurt Basil Pesto Quinoa Pasta with a side of Simple Sweet Potato Spears.
I loved the quinoa pasta! This was my first time having it. I think Cameron might actually like it too. He really doesn't like whole wheat pasta. I don't mind it, but it's definitely not my favorite compared to Barilla Plus, and now quinoa pasta. They are all much healthier choices than plain white pasta, though, so I'll take any of them.
Here's how I did it:
Mustard and Herb Panko Parmesan Chicken Breasts
Ingredients:
4 large boneless skinless chicken breasts (about 2 lbs total) trimmed of fat and nastiness
3 egg whites
1tbsp brown or spicy mustard
a splash of milk (I used almond milk)
1-1&1/2 cups of Panko bread crumbs
salt, pepper, red cayenne pepper, garlic powder
1/2 cup parmesan cheese
olive oil spray or Pam
Place the egg whites, mustard, and milk in a shallow, wide bottomed bowl. Whisk until as uniform as possible. Place Panko bread crumbs, salt, pepper, cayenne pepper, and garlic powder in an identical bowl. Add as much as you would like of each based on flavor preference. Add parmesan cheese, and blend with fork until well blended.
Set up the chicken, egg wash, and bread crumbs like this: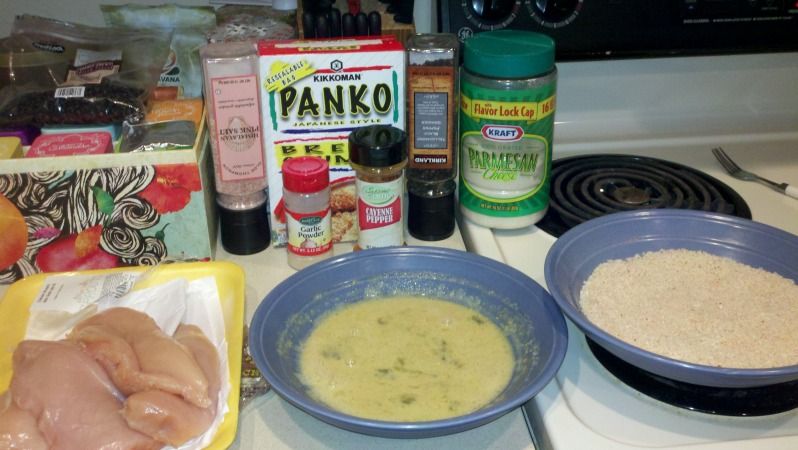 Cover each chicken breast with egg wash, then bread crumbs, and put them on a baking sheet or parchment paper on a baking sheet sprayed with olive oil or Pam. Bake at 375 degrees for 35-40 minutes, until the center of each chicken breast is at least 165 degrees.
That's it! The chicken is done!
Greek Yogurt Basil Pesto Quinoa Pasta
Ingredients:
3/4 cup non-fat plain Greek yogurt
1 packet of Simply Organic Sweet Basil Pesto Sauce
1 box of quinoa pasta-I used Ancient Harvest from Sprouts
Cook pasta according to package directions. Blend the packet of sauce mix with the Greek yogurt until uniform. Mix the blended yogurt sauce with the warm pasta until pasta is covered. Serve with salt and pepper to taste.
I liked the pasta, but wish the sauce could have been a bit less tangy. I think I will try mixing the Greek yogurt with something else similar. I haven't thought of what yet, though. Let me know if you have any ideas of what might be a good mix.
Last, but definitely not least:
Simple Sweet Potato Spears
These are SO easy! Clean two to three large, preferably thin sweet potatoes or yams. (I still don't know the difference, seriously!!) Cut lengthwise into "spears" that are about an inch wide. Spray with olive oil (I have an olive oil mister) and out into a ziploc bag. Sprinkle a generous portion of salt and pepper (I used freshly ground pink Himalayan salt and freshly ground pepper) over the potatoes and seal the bag. Shake the bag and evenly spread the salt and pepper all over the potatoes.
Place side by side on a greased, foil lined baking sheet. Bake for 20-25 minutes, flip potatoes, and then bake for another 20-25 minutes until done.
Serve together as a meal and enjoy!
Let me know if you were able to try any of these recipes, and if you liked them! Also, don't forget to suggest something to mix the Greek yogurt with to lessen the tanginess.
Happy Trails and Healthy Eats!
Stacey