I tried these once before, and didn't put them on right. They started coming off right after I applied them….I obviously wasn't doing it right, because other people had success with them!
They are Sally Hansen Salon Effects nail polish strips. I decided to give them another try this week, because I have seen them on other people, and they are so cool!
I have a really hard time keeping nail color on my nails for more than a day or two without them chipping. I'm not sure if I have an extra oily nail bed, or just really bad application skills. It could also be working with my hands all day at work that causes the chippage. I have noticed, though, that not only does my nail polish chip off, it also likes to peel off in sheets at the tips. The only way I can get polish to last maybe 3-4 days instead of 1-2 days is to really roughen them up with a course nail file before putting on my polish. Even a base coat doesn't help.
Anyway, so I wanted to try these again, and they worked much better this time!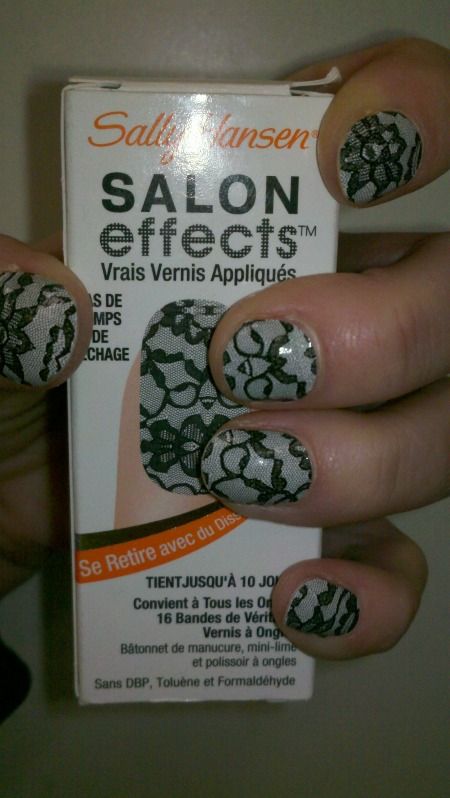 The trick is to prep your nails correctly, and use the correct side of the strip for your nail. Make sure to buff the tops of your nails with the white side of the included nail file like it says in the instructions. I used the course pink side for mine, because of my nail issues that I explained above. Also, make sure you push your cuticles back really well. You can use either side of each strip when applying to the nail. One side seems to be more tapered, and the other one more parallel. Choose the one that best fits the shape of your nail near the cuticle, and you will have better fit and coverage, and less of a gap between the strip and the edges of your nails. Hold the strip by the center when placing on the nail like it says in the instructions for better control. Lastly, stretch them a tiny bit as you apply them on the end of your nail. This ensures a smooth, even finish.
The only thing I want to try next time is adding a top coat right after I put them on. I didn't have mine with me when I applied mine, so I just didn't bother. The girls at Ali's veterinarian's office all use them, and say using a topcoat is a trick they have to make them stay on longer. When you pay $9.99 for a set, you want to make them last!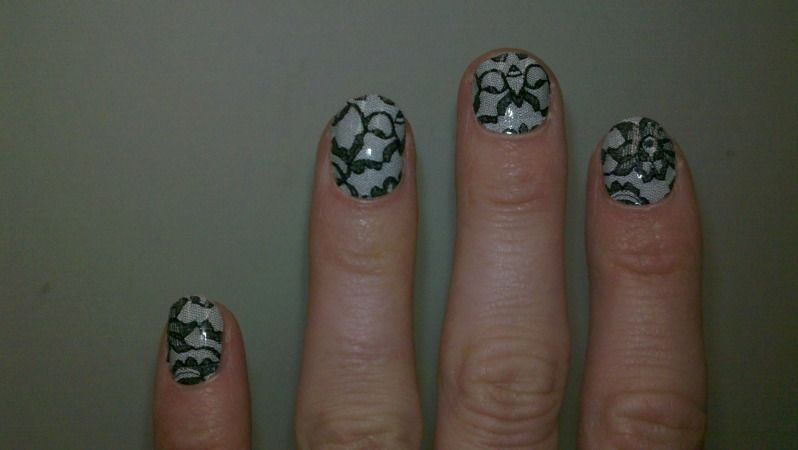 One last close up picture of them. I like the black and white since it goes with everything. They have seasonal and special edition ones that come out every once in awhile, as well. Keep an eye out for those on the special end stands and sections in stores like Walgreens, and by the cosmetics counter.
Have you ever used these? Have you had success with them? What is your favorite design?