I printed this recipe off of the Runner's World website a few weeks ago, because it seemed really easy and full of "good for ya" stuff.
If you read my last recipe post two weeks ago, I have been battling sticking to healthy eating with the increased mileage in my marathon training. I tend to just say "screw it, I ran 8 miles today, I'll just eat crap." I have been SO hungry lately! I also feel like I have gained a couple of pounds, (no laughing people, I notice these things, ok!?) and have felt kind of down about it.
I saw this on my running teammate, Carrie Weldy's Facebook page, and it's exactly what I needed to see!
So I really wanted to make myself something healthy and filling to take with me to work this week that wasn't just healthy TV dinners. I eat a lot of Lean Cuisines and whatnot, and they aren't too bad for you, but they get old really fast.
When I saw this recipe called "Make Ahead Power Lunch," I knew I wanted to try it. It is super easy, quick, and healthy. I can give credit to Maggie G. and Runner's World for this recipe.
All you need is one pound of any kind of protein you prefer: (lean ground beef, tofu, ground bison, etc. I used 93/7 Lean Ground Turkey.) Plus, two drained cans of beans (your preference-I used pinto and kidney), three cans of diced tomatoes with liquid, and a bag of leafy greens (I used baby spinach.)
In a deep skillet or Dutch oven, lightly brown the ground turkey, then add the beans and tomatoes. Stir until well mixed, and simmer for a few minutes.
Then, add the greens, and cover for a few minutes until they are wilted.
Once the spinach is wilted, uncover and stir until well mixed.
Make sure you have your assistant close by in case something falls on the floor and you need a quick clean up
.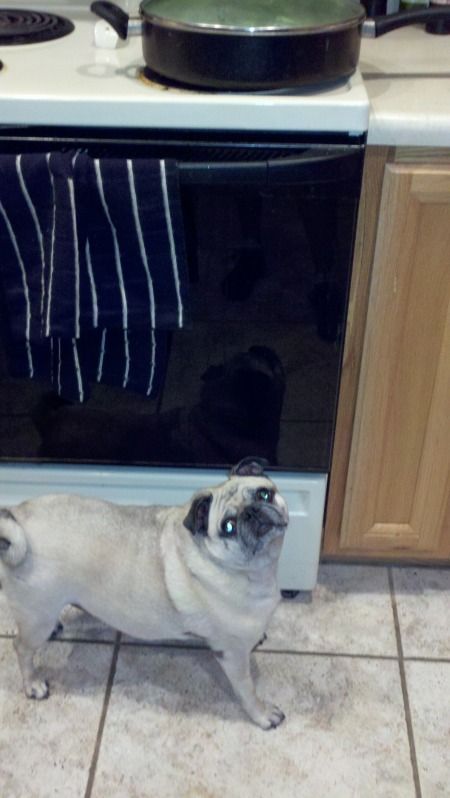 Then, add whatever spices and seasonings you prefer, stir, and serve!
I broke up a piece of low fat sharp cheddar cheese and sprinkled it on the top. It turned out to be really good!! I forgot to take a picture of my bowl before I ate it, so my apologies! It disappeared very fast
What are you making for dinner tonight? Do you ever make dinner for the week to make life easier on yourself? What is your favorite healthy thing to make?
Happy Trails!
Stacey