Fall is my favorite season of the year. It is the only thing I miss about Indiana weather. Indiana has beautiful season changes, and fall has the perfect "sweatshirt weather." I love when it's just crisp enough outside to wear a sweatshirt, but not so cold that you need a coat.
In my hometown, New Albany, IN, they have a fall festival every year in October called Harvest Homecoming. You can walk through streets of booths of crafts, food, clothes, jewelry, you name it! You can also ride the rides, sit at the stage and watch local dance studios and choirs perform, and attend the parade. I always loved going to HH, and haven't been back for several years. I am hoping to maybe make it back in the next couple of years for it.
Even though the weather here in AZ isn't exactly "fall-like" until after Halloween, I still love everything about fall.
Let's start with Pumpkin froyo. I love froyo (frozen yogurt) anytime of the year….everyday…all of the time. However, Pumpkin froyo has given my froyo problem a new meaning! It has the pumpkin spice taste of pumpkin pie, and adding graham cracker crumbs to it makes it perfect! I get mine at Yoasis in Ahwatukee. I love their froyo! There are many health benefits to it, it even names them on their wall!
They even donated toward my fundraising for NYC marathon and CFC! Awesome place with very nice people running it!
Next, it's honeycrisp apples! I LOVE them!!! They are crisp, sweet, a little tart, ginormous, and super yummy!!
I've had like 4 already this week. Ali loves them, too!
I also love Halloween Candy, although I try not to overdue it
This is one of the ones with the lowest calorie and fat content. Dark chocolate is an antioxidant, come on!!
Apple cinnamon always reminds me of fall. This morning, I had apple cinnamon oatmeal for breakfast.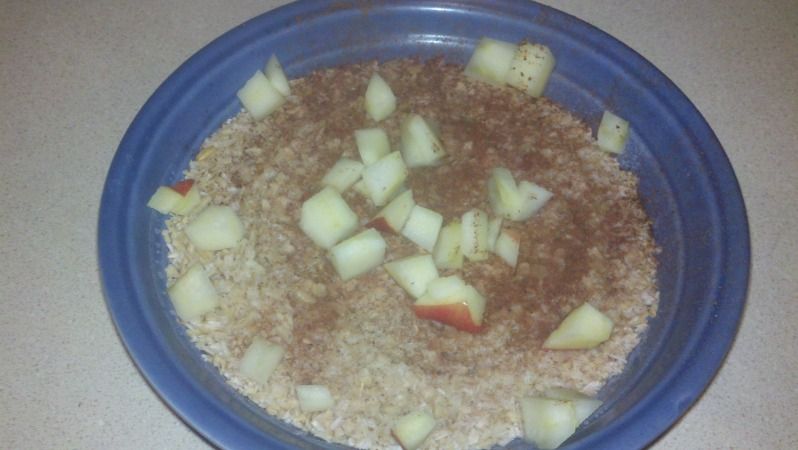 Yummy!!
I also love spicy warm teas and apple cider in the fall. I had some Chai this morning with my oatmeal.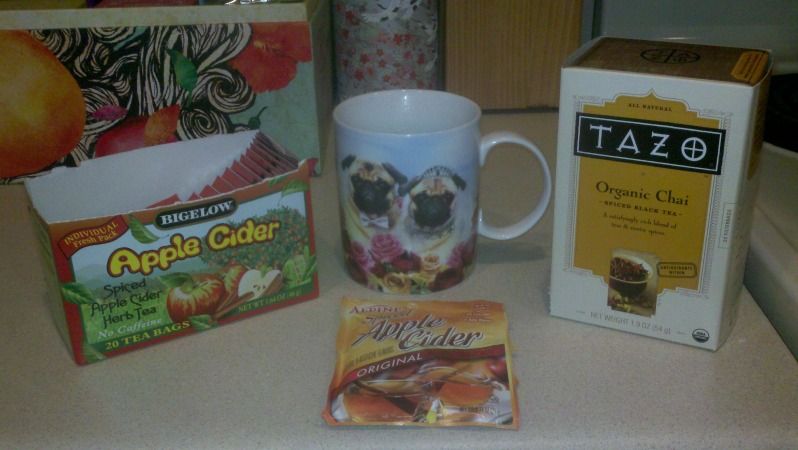 In my bride and groom pug mug of course
. And who can forget Pumpkin Spice lattes at Starbucks??
Once it gets cooler, I will make my chili. Chili is something that I am actually really good at making! I like mine spicy with a smoky flavor. I use ground turkey or very lean ground beef in mine to make it a little healthier.
This is what my chili looks like when I make it. My favorite way to eat chili is the way my Mom and Dad used to eat it when I was a kid. Line the bottom of your bowl with Fritos, pour chili on top, and top with cheese. Stir, then eat! SOOOOOO good! I can't wait until it gets cooler so I can make it!
What do you love about fall? Do you have a secretly amazing chili recipe? How do you like your chili??
Happy Trails!
Stacey