I got up at the crack of dawn (middle of the night Phoenix time) this morning to run 13.1 in my hometown!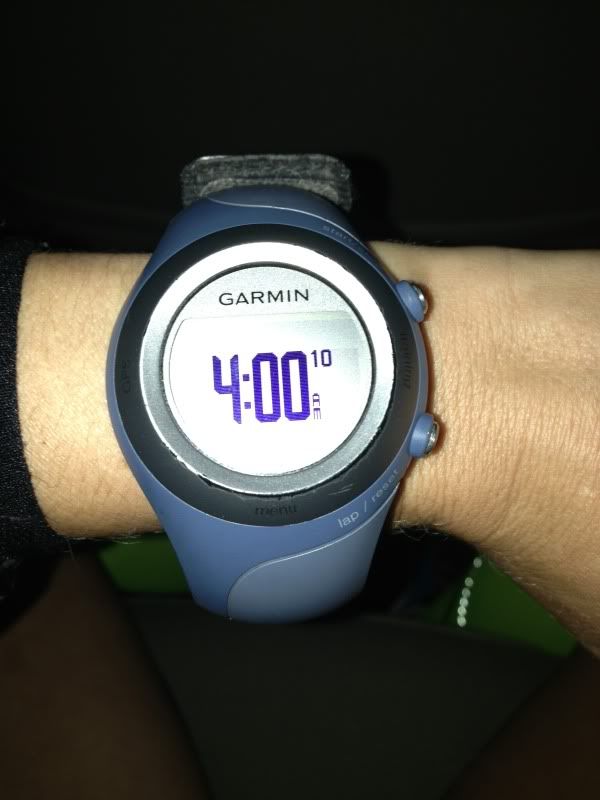 Here was the finish line being put up this morning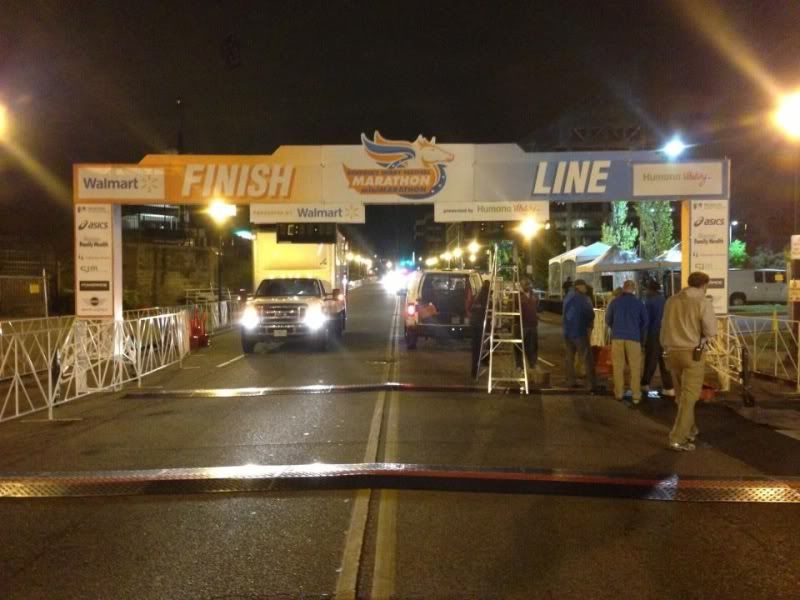 (source: KDF Facebook page)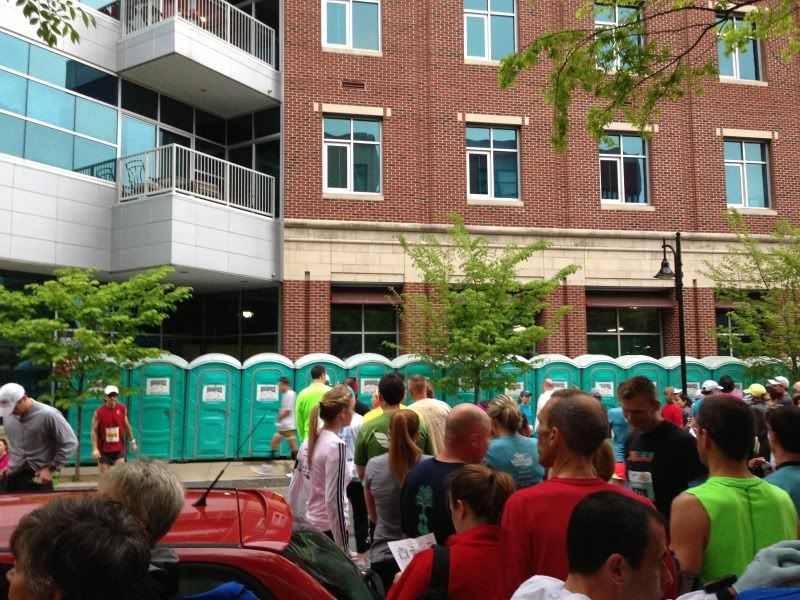 Starting line potties!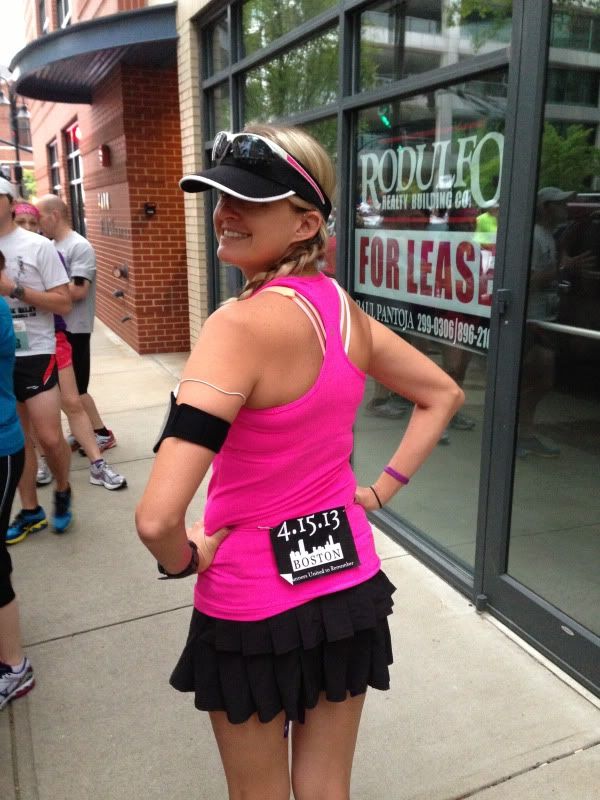 This was my tribute to Boston this race
These ladies had awesome shirts that they had made for their Boston tribute!
(source: KDF Facebook page)
(source: KDF Facebook page)
Corral C where I started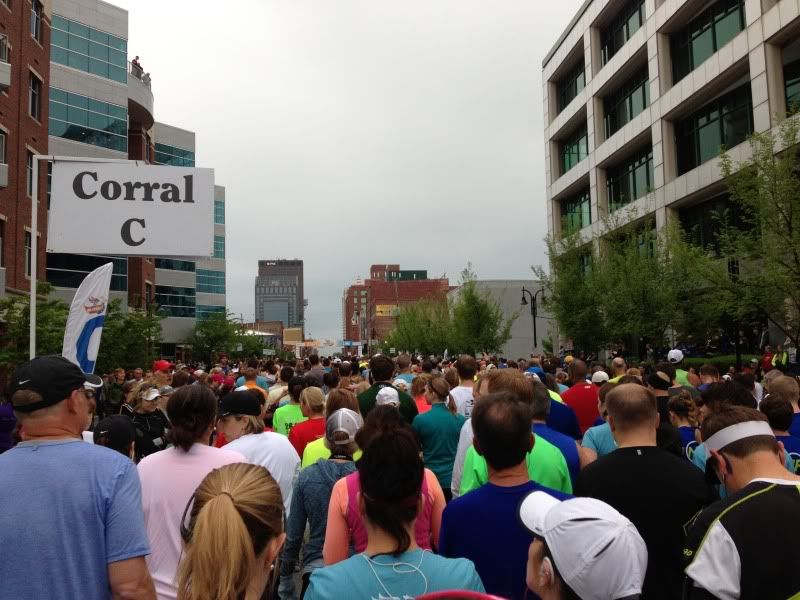 Lots of spectators at the starting line! Great way to get pumped up!
My picture of the starting line. May not look like it, but it was perfect weather for a race!
We got to run down Main St past the Yum Center!! (Where U of L BBall plays!)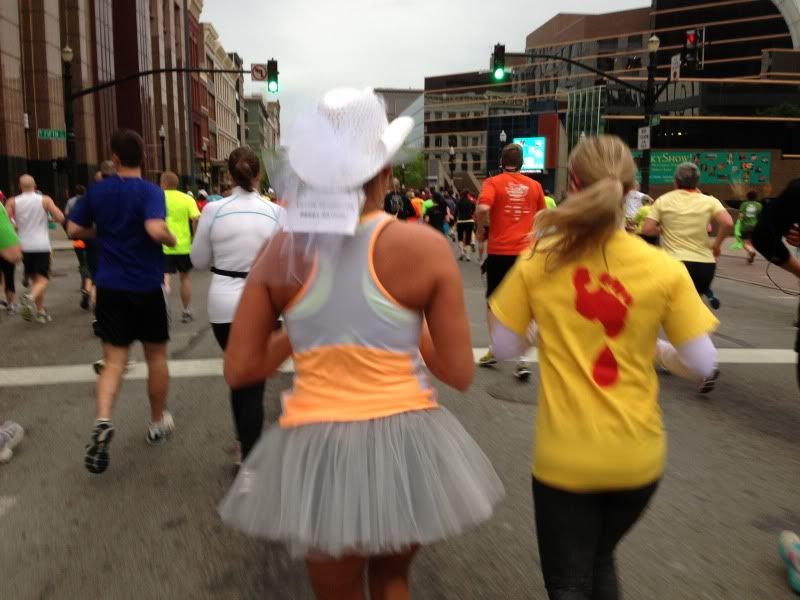 This girl's sign said she "is getting hitched on Derby Day!" How cute!!
There's the girl running with the American flag-too cool!!
I liked his shirt
Mile 3!!!
Running through Old Louisville was beautiful!! So much green, I loved it!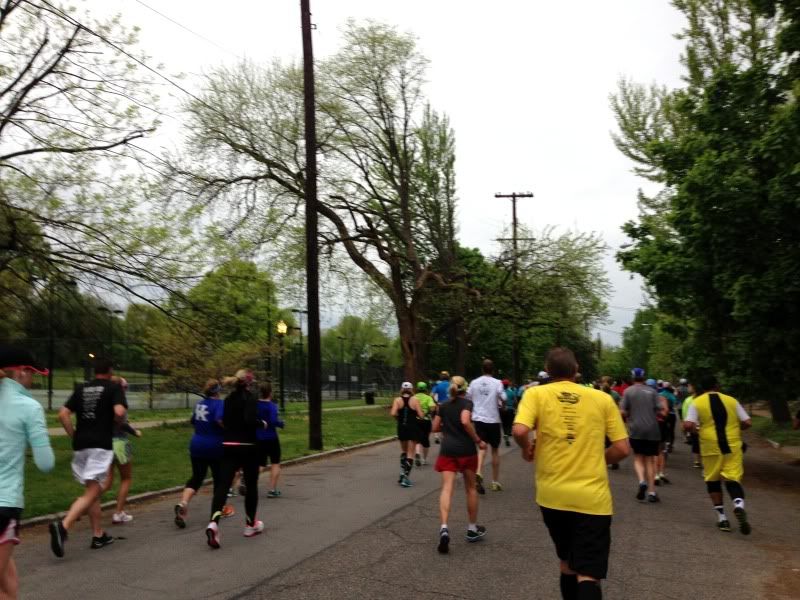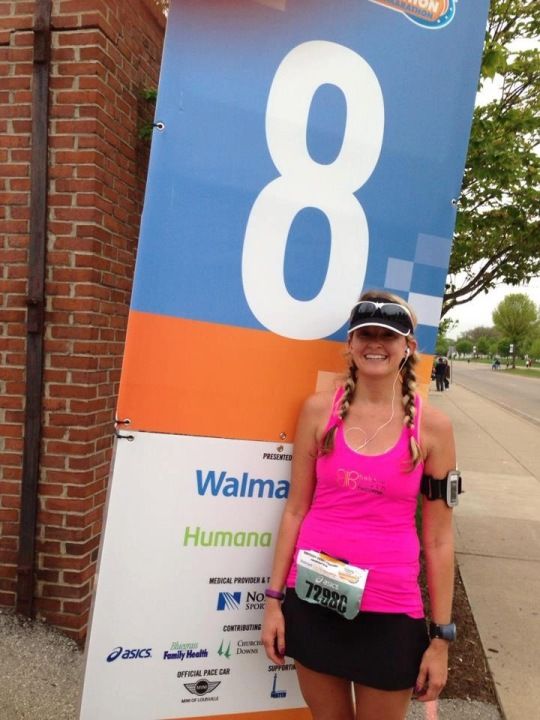 Heading into Churchill Downs through the tunnel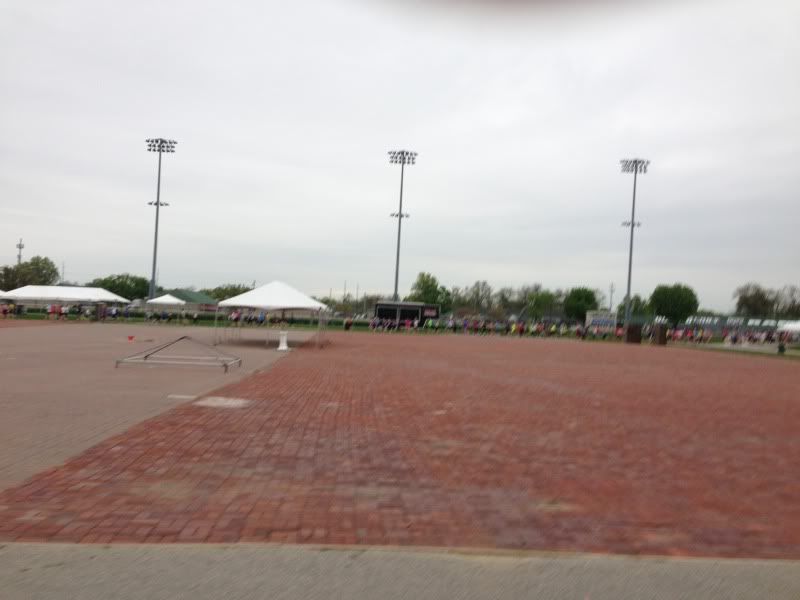 The World Famous Twin Spires!!
The grandstands
Horses running on the track practicing for the Derby!!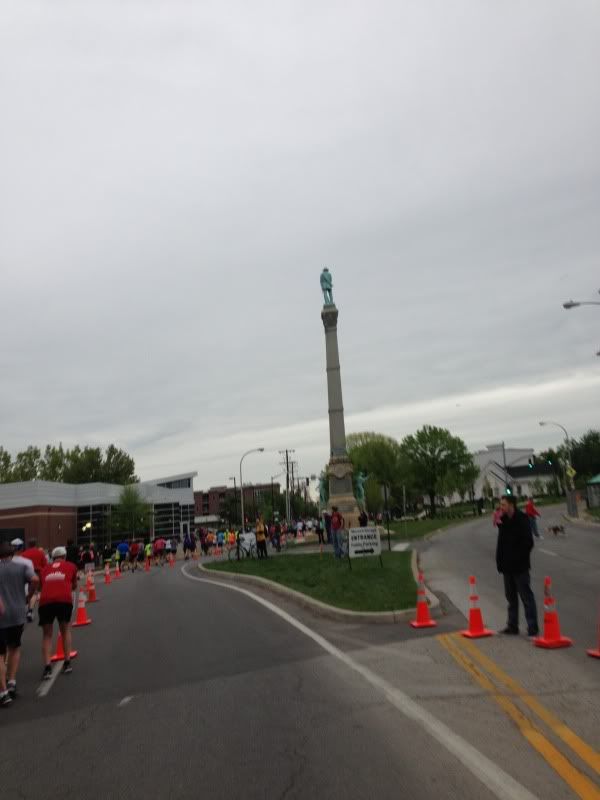 The split off of the marathon and the mini marathon-I've never been so glad in my life to take a left!!!
Kevin Ware's cardboard cutout was hanging out on the side of the road!
That was the last picture I took during the race because it was at around mile 10, and it was time to focus and dig deep.
The race was in general really great! I enjoyed it so much and plan to continue making it a yearly event! Hopefully making 26.2 miles happen next year!
My hamstring behaved for the most part the whole time. I was told by Devin that he would kick my ass if I looked at my Garmin during the race! He was concerned that I would push myself too hard if I kept looking at my pace. That's what happened during PF Changs. I did look at my Garmin, but I didn't let it dictate my pace. I tried to adjust it based on how my hamstrings were feeling. I was able to keep it around a 10 minute mile the entire time! I purposely pulled back several times because I started to notice that my right hamstring didn't like me very much. It helped! I struggled once I got to around miles 9-10, because I started feeling the fact that I hadn't run more than 4 miles at a time for like 2 months! I was able to pick up my pace once I hit mile 12. I held it at around 9:30-9:40 until I rounded the corner to the finish line, then I finished really strong. My pace on my Garmin when I crossed the finish line was a 7:41.
It didn't hurt then, but I am pretty sore now. It felt so good, though! After the race, I got my mylar (thought they only gave those out at fulls!?) and my medal, and found Mom and Dad.
Before I found Mom and Dad, though, I saw a cutie that I just had to get a picture of! His name is Rafa! What an adorable Corgi! I took this pic to send to a special someone-you know who you are
Nice braids, Stace'!
Love the Riverfront! Planning on a nice recovery run there tomorrow.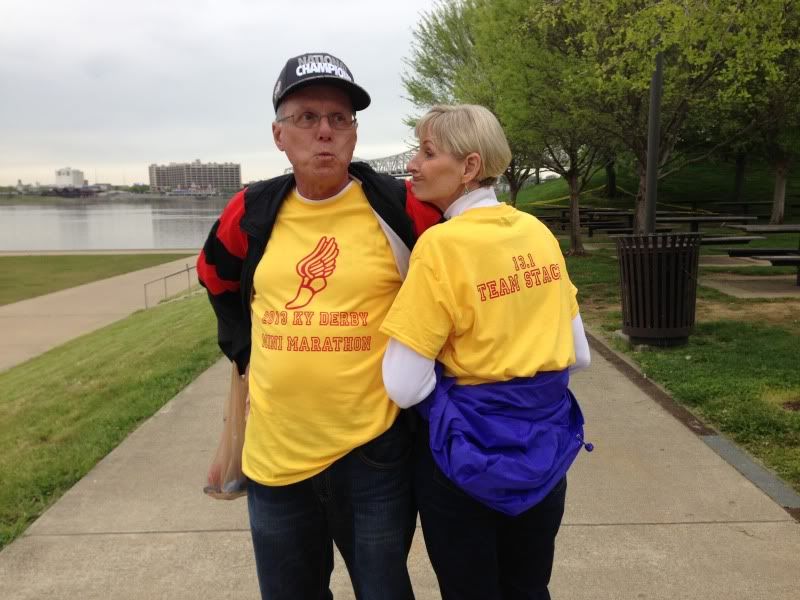 How cute are they!! Front and back of their Team Stacey shirts they made!
Great job on the color and the design Mel! Great idea guys, I loved them!
I'm going to end with my new favorite race picture, taken by my sister:
This shows how truly happy I was to have my amazing family there today to support me. I have never had family at a race before, and it felt so awesome and made me SO happy!! It just felt right today. Running in my hometown with my family there to support me, and actually pulling off a 2:19:30 to boot!! Wow what a day!
Now, I'm sore and my body hurts, so I am going to bed. It was all worth it, though. Hopefully, the next race recap I do will be a PR and I will be nursed back to health finally!
Thanks so much to my Mom and Dad and Mel and Johnnie for coming and cheering for me! Best race ever!! I love you all!!
Happy Trails!
Stacey