So I took the rest of this week off work because I feel like I needed a break. I unfortunately had a funeral to go to Wednesday for a dear friend of my husband that died suddenly, and way too early, of cancer. I was not prepared for the emotions that surfaced in me at her memorial. When something like this happens, it really causes me to take a step back and think about what is most important in life. You never know when today is the last day you'll be able to tell your loved ones you love them; so take advantage of it! She lived her life to the fullest. She always had a smile on her face, and a hug everytime I saw her. She was an amazing person, and will be greatly missed by everyone whose lives she touched. I dedicated my 6ish mile run/hike/run yesterday morning to her-Rest in peace Sheila :-).
I follow RunEatRepeat's blog regularly, and she is doing a 30 Day Smart Snacking Challenge. I think it's a great idea, because it is influencing me to be more aware of my mindless snacking. I am good at picking out healthy snacks when I try to. So, I decided to jump on the bandwagon and try this 30 day snack challenge. Here are my snacks so far this week:
Monday: One 8oz Kirkland's organic reduced fat chocolate milk (Click on link for nutrition info)
Tuesday: One bottle of Muscle Milk light-Caffe Latte flavor, a sample of Coconut Cream Pie Lara Bar
Wednesday: One 2.5oz protein shot (116 cal,20gm protein) that Cameron put in my stocking, 1 cup unsweetened applesauce, and about 3-4 cups of airpopped popcorn with spray butter and white cheddar and nacho cheese popcorn seasoning.
Today: A few samples at costco (ok, they weren't all healthy, but they were itty bitty, ok? :-)) and a whole thing of Greek yogurt they were giving out as a sample (that was a huge sample!)-this ended up being my lunch actually….a Chobani greek yogurt in black cherry, and a 100% whole wheat Thomas bagel thin, toasted with 2-ish tbsp of hummus that I got at Costco today.
So far, I think I am doing pretty well on my healthy snacking. What do you guys think? Leave me your healthy snacking ideas in a comment below!
Monica from RunEatRepeat has posted pics of some of the flavors of Chobani greek yogurt she has tried, so I went to Safeway today and found all of these flavors: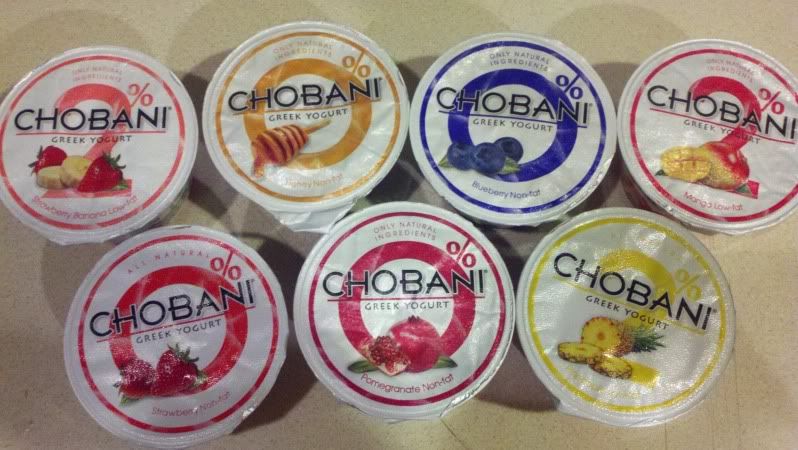 My favorite so far is this one: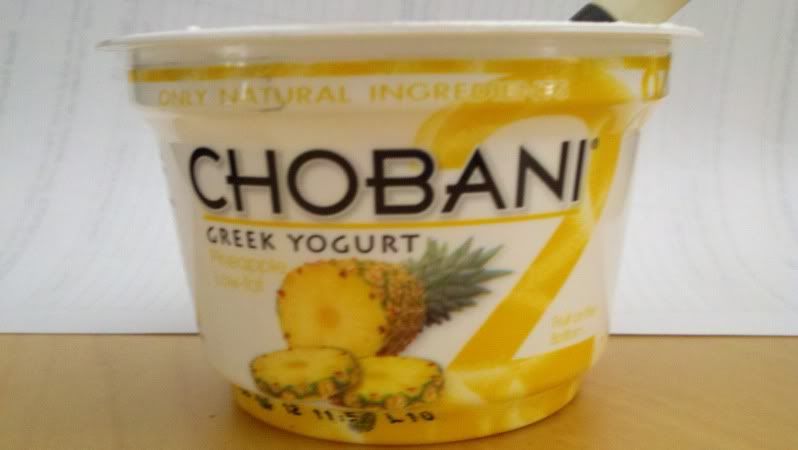 I like greek yogurt better than regular, because it has a lot more protein, and is much more filling. It is SO good, too!
A drink that I have been enjoying lately is this:

My wonderful Mommy sent me some for Christmas along with this: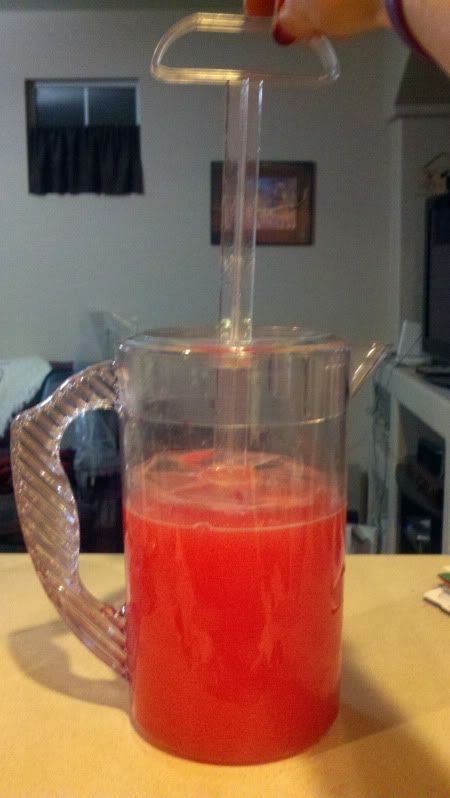 which is from Pampered Chef. The last time I went to visit my parents in August, she had this made in the fridge, and I drank it the entire time I was there. I loved the pitcher, too, because it has a built in stirring rod and is nice and sturdy. My Mom is SO good at making mental notes, and later surprising me with things later after I forgot about liking them. What an awesome gift! The only thing I don't like about the Crystal Light packets is that they use aspartame as their artificial sweetener. I try to stay away from aspartame, so I do not drink this 24/7 or anything. I make it every once in awhile as a special treat :-). Each pack has 30 calories, 5g of fiber, and 3g of protein. Not to mention, they are delicious!
Cameron made an amazing and healthy dinner for us tonight! Seared Ahi tuna lettuce boats with cold noodles, asian slaw, and a sweet and spicy dipping sauce: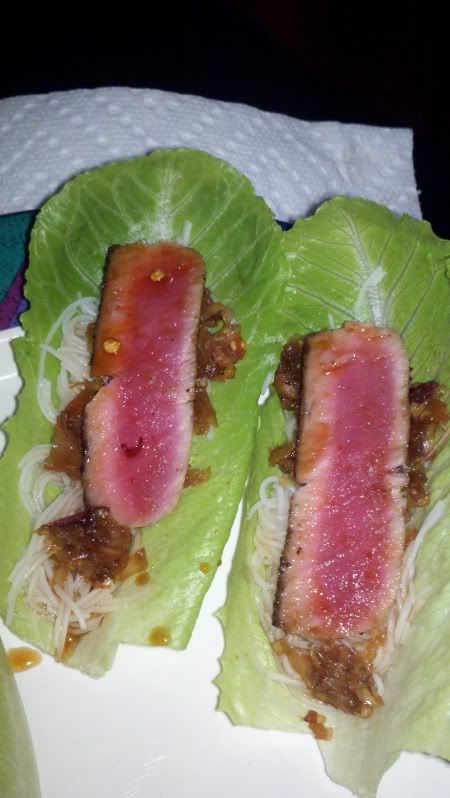 They were delicious! My belly is full. Off to bed so I can get plenty of rest. I start physical therapy tomorrow. I am super excited!
Happy Trails!