I went on an awesome hike today right in our own backyard! South Mountain is a great place to hike. It is such a blessing to live so close to such an amazing natural resource. I have been taking it easy with my running after Monday's experience. (I ran two miles and had to stop three times and walk. My knee was bothering me a lot, too.) So I decided to do a long hike today.


Here I go!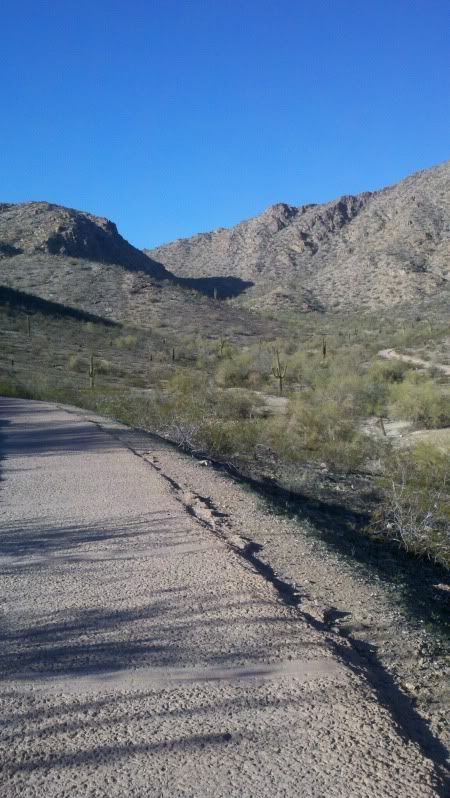 This is the beginning of Telegraph Pass


This is where the trail branches off into two trails


One direction is Desert Classic Trail, which is great for mountain biking and trail running. It is relatively flat in comparison to many other trails in the area, so it is boring to hike; at least to me.


The other side of the fork is Telegraph Pass, which is one of my favorite trails. It is a quick workout, with a lot of elevation gain in just over a mile of trail. Telegraph intersects with the National Trail at the top, which goes all the way across South Mountain, from one end to the other. The National Trail is about 15.5 miles long. I really want to do the National Trail Trek this weekend, which is a huge group that hikes from one side of the National Trail to the other; but it filled up, and I didn't realize it. If anyone knows anyone who registered, and now doesn't want to go, please let me know. I still really want to go!


The really nice man in the background of the previous picture was nice enough to offer to take a picture of me!


The sun setting over South Mountain casting a huge shadow over the trail.


View from the top of Telegraph Pass in the evening.


Part of the National Trail


Top of Telegraph Pass from top of South Mountain


The stone ramada at the top of the trail


Between the ridgelines


Beautiful vegetation along the Pyramid Trail


Pyramid Trail-How perfect is this for trail running? Too bad I had to seriously hold back because I really wanted to!


Beautiful Ahwatukee from the top of the mountain


Those were just several other good pics I got while hiking


This is where I took a wrong turn and almost got lost in the wilderness this past summer. Always make sure you know where you are going. Especially in the summer! Even if you bring three liters of water, and a coconut water, (warm coconut water is realllly disgusting!) it may be SO hot that not even THAT is enough. Take it from someone who knows from experience!


How much do you want to run these trails? Aren't they just screaming "run me! run me! I'm flat and I'm a trail, you know you wanna run me!" I LOVE being injured and having to coddle my body.


I just love this picture! It might actually be a framer!


The beautiful AZ sunset behind South Mountain.


Back in civilization


Some lowfat organic chocolate milk for some refueling and recovery


The best part is my shirt. You know you love it 🙂
Happy Trails and Happy Friday everyone!