The Skirt Sports Skirt Chaser 5K was today in Tempe. I met up with some of my friends Owen, Drea, and Kristine at Tempe Beach park this afternoon to get in on the fun. The way it works is the girls start, then the guys have to wait 3 minutes for their start and then try to catch the girls. Instead of a t-shirt, the girls get a running skirt! This year, they gave us a running skirt in the color "Purple Haze", which is a medium lavender color. It was really cute! There were a ton of people there! I heard there were at least 2000 in attendance. 60% were girls and 40% were guys. There were guys in skirts, tutu's, pink compression socks, even a hot dog and a bottle of ketchup! There were also plenty of shirts that said "Catch me!" and "Already caught!" to help out the guys at the afterparty ;-). Here are a couple of pics from before the race:


Kristine and I right before the start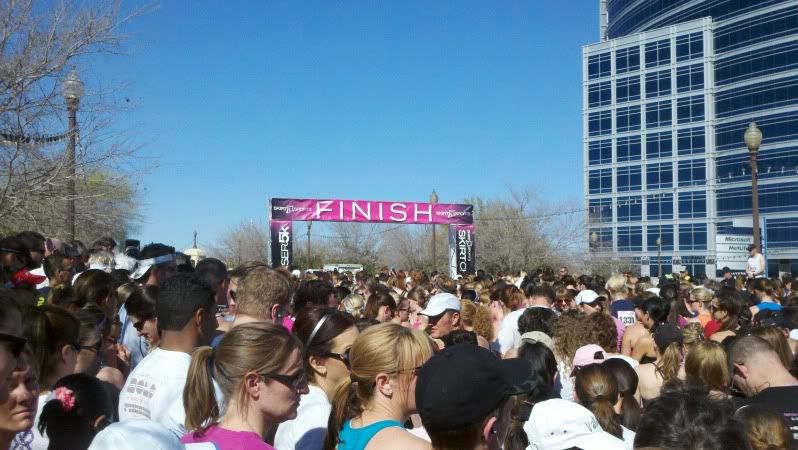 Starting line (that says finish)


Kristine and I with the NightRun Owl (Nice photography random dude!)


Everyone getting shmammered recovering after the race


Hanging with my girl Karen at her Sole Sports tent. Love her!


Little retail therapy never hurt anything 🙂


Joe from Sole Sports sporting his manly running skirt (He's awesome! He and Katie helped me pick out my shoes!)
My time ended up being 33:03. Now I just have to learn to run three miles again. Without stopping. Starting from scratch sucks! It's definitely worth the pain and torture hard work, though!
Today was a lot of fun! There were all sorts of booths, including Sole Sports, OhYeah, 5 Hour Energy, Four Peaks Brewery, WalkRunWag 5K9, Kiss Me I'm Irish Run, and many more! Everyone we met was really cool, and were all just out to have a good time. I will definitely do it again next year, and would recommend it to everyone! Hope you had fun if you were there today! If you took any good pics, I'd love to see them!
Happy Trails!