Today was an awesome day! I woke up bright eyed and bushy tailed and all I wanted to do was lay around, drink my coffee and my Green Monster smoothie, and play on the computer. I knew I needed to get a good run in today, so after procrastinating for a little bit, I geared up and headed out the door for my "long run." (3 miles….a girl's gotta start somewhere, ok?) I actually planned on running only 2.5, and running more later; but it felt so good, I just kept going! I love running in 'Tukee on Saturday morning! There are so many like-minded people getting their sweat on, and I always wonder what other people are training for. Everyone is so nice, too! I got waves and peace signs, and just happy hellos all around. Runners are for the most part happy people. That's why I love them, and being one of them!


I forgot to post this in my post on Tuesday. This was me before my freezing cold run through Ahwatukee. LOVE my new Tough Girl skirt/pants from Skirt Sports/Sole Sports!
After my run, I went to my Saturday AM meeting and hung with my girls, then did a little bit more shopping. (I had a special moment at Lulu last night….I made my first purchase! Besides almost having a heart attack after I saw the total, it was an awesome experience!) I went to Ulta, and invested in a gel topcoat and a small UV light for my manicures. My manicures that I do on myself always start chipping within HOURS of doing them! I got so frusterated that I decided to invest in something a little more durable. I will do a review on the products after I have had a chance to put them to the test. I also went to Sports Authority and used my $10 off a $50 purchase coupon. I got a new hand-held water bottle, and two new Under Armour technical running shirts. Both were on sale, which makes me a happy girl! Here is a new outfit:


The top is one of ny new UA's and the skirt is from Lululemon. So far I say Lulu may be insanely priced, but I would make the same purchase again. I am SO impressed with the quality and comfort or their stuff! I wore this outfit on my run #2 of today. I wanted to get another really easy run in since i missed yesterday's run. I ran 2.25 miles at an average pace of 10:21, and it felt fantastic, again! Yay for running without knee pain!!
Then, I came home and took an ice bath.


Thank God they are so effective! It was torture just putting my feet in the cold water(no ice)!


Then, I made the best cookies ever!!!


Cowgirl Cookies!! These are as healthy as they can get. I subbed applesauce for most of the oil, and Splenda and a tad bit of Agave Nectar for the sugar. I also used less coconut, and more applesauce and almond milk than the recipe called for. It was WAY too dry with the amount of liquid the recipe called for. I also used one tbsp of Peanut oil instead of canola oil to go with the applesauce. I got the base recipe from The Baking Stone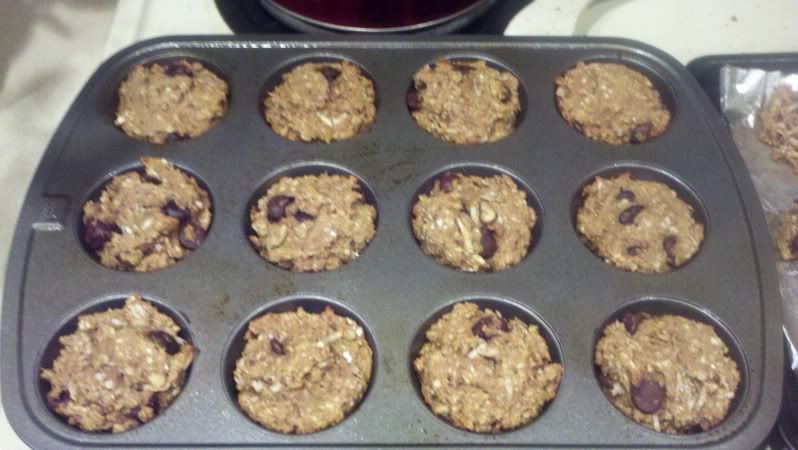 How good do these look!?!? The are amazing, trust me. These are going to be my breakfast for the next week! Do you have any good recipes for "to go" breakfast or snacking items? Share it with me!
Happy Trails and Healthy Eating!