Saturday, I ran a really fun 5K called the Firefly Run with my friends Ari and Nicole. It was held in downtown Phoenix in the evening so everyone could sport their glowy, lit up costumes. It was so weird getting ready for a 5K in the evening! It was on the cool side, so I decided to go with long sleeves in case I got cold.
Gotta love tropical iced tea from Pita Jungle!
When I got there, I found my girls, and then headed for the porta potties for a quick ridiculously long potty before the race started. (This was my only complaint about the race—there were only like 15 porta potties for a race of 1600 people.) The crowd looked so cool with all the lit up costumes!
This photo doesn't really do the atmosphere justice-it was SO cool-especially the darker it got!
Then, I met back up with the girls and we got to our positions at the starting line.
Nicole and I at the starting line
Nicole asked me if I wanted to run with her, and I said sure! I thought I'd try to hang with her….but the girl is fast! I definitely slowed her down a lot! She hung in with me, though, and pushed me to a PR of 27:48!! Thanks SO much Nicole for your patience and motivation! I couldn't have done it without you!
After the race, after coming out of my painful delirium I am always in right after a race where I push myself really hard, we went to get a pic on the red carpet. While we were in line, we saw this AMAZING jellyfish costume:
If, and how she ran in that thing is beyond me! It was SO cool, though! I think I need to put a little more thought into my costume next year….lol!
The little red carpet was very cute: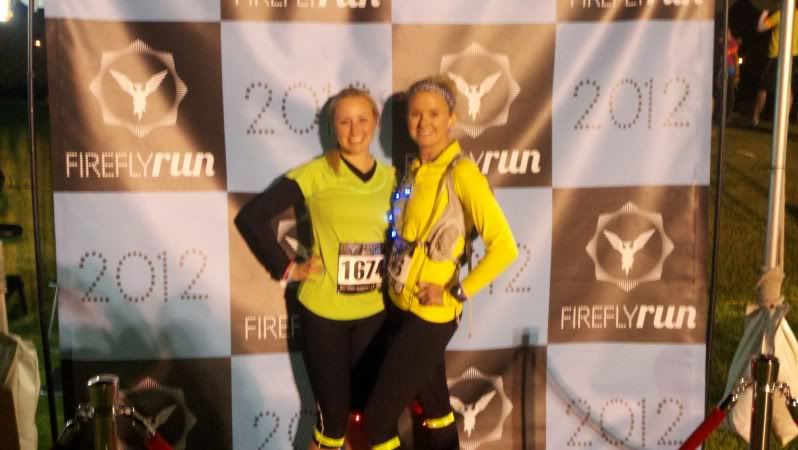 After the race, we all met at Papago Brewing Company in Scottsdale for dinner. I had a Thai Chicken wrap:
It was pretty good, but even better with more Thai Peanut sauce to dip it in
I had a lot of fun with everyone at the race and dinner. I can't wait to hang out with them more, and do some more running with them!
After dinner, how else would you want to end such a great night?
FRO-YO!!!
Pomegranate/Cake batter swirl for me, vanilla with caramel drizzle for Cameron.
Bobas are interesting little creatures….they intrigue me, so I always get a few of them. These were strawberry flavored. SO good! I <3 Fro-Yo
I can't wait until Pat's Run and our AZ Blogger's Network brunch meet up afterwards! You girls are SO awesome, and I have SO much fun with you!
Are you doing Pat's Run this weekend?
Did you do the Firefly Run? – Check out Ari's Race Recap!!
Do you like Bobas in your Fro-Yo?
How do you manage to run once it starts getting so hot??
Happy Trails!