So my Sweetie Poo Bumpkin Butt, A.K.A. Ali, our pug, has a mast cell tumor that we are having removed Friday. Our vet, Dr. Stephanie Iverson at Foothills Animal Hospital, is the best! She said that the cytology report said that the tumor is likely a grade 1, possibly grade 2, and that it is well differentiated. In non-medical terms, that is a good thing! For grade 1 tumors, they are surgically removed, making sure that there is a good sized margin, and that all of the tumor tissue is removed. From there, it will be sent to the lab and graded to find out exactly what level of aggressiveness we are dealing with. A treatment plan follows based on those results. Here is a really awesome website that explains what I just said in a nutshell, in greater detail.
Ali said "tumor schmoomer!! Dr. Iverson (my favorite vet!) says there is a really good chance of survival. So I'm going to have Fro-Yo (well, at least I'll try to get them to feed me some) with Mommy, and Auntie Ari and Auntie Nicole! We're going to take a walk with the duckies by the pond, too!" So I said "ok sweetie! You're coming with me to Fro-Yo!"
So we met Ari and Nicole today at Coffee Rush for an iced coffee, and for Fro-Yo at Swirl It. I got a large iced coffee with skim milk and sugar free cherry mocha syrup. It was amazing!! Then, at Swirl-It, I got Red Velvet and Pineapple Fro-Yo with lotsa candy on top.
They have SO MUCH CANDY to choose from!! Look at our cups!
So we then took a nice leisurely walk down the path by the lake by the ducks. The ducks are fearless! SO cute, too.
Ali is totally geeked out! She loves being outside, especially in the grass! (Even though she's allergic to Bermuda grass, she still loves it!)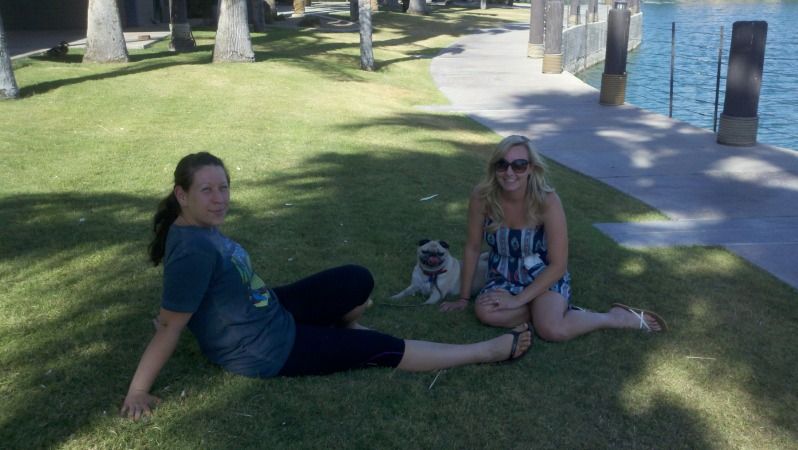 My girls are SO awesome! They have been there for me this week during this stressful time, no questions asked! They walked and stopped, and walked, and stopped when Tater decided she was tired and hot and wanted to lay down. Then, they sat down with her and I, and just chilled. I am grateful to have such wonderful friends!
Ali's surgery is Friday, so keep her in your thoughts and prayers. She is in great hands! I will report back Friday and let you all know how she is doing
.
Happy Trails!
Stacey and Ali