Ever since I saw a recipe for bone in, skin on chicken breasts stuffed with goat cheese on Fitness Magazine's website, I've been wanting to try it. I looked at several other similar recipes, and they are all very similar.
I decided to use garlic and herb goat cheese along with rosemary, thyme and sage for the stuffing.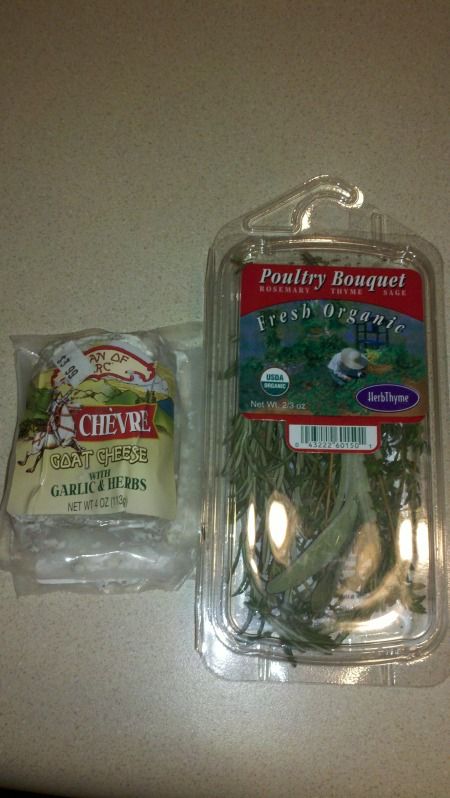 This was super easy and quick to prepare! Just preheat your oven to 375. Line a cookie sheet with foil, and grease with EVOO. Place the chicken breasts on the foil to stuff. Place three medallions of the goat cheese under the skin and press down to spread evenly. Then, stuff a piece each of rosemary, thyme, and sage in as well, right on top of the goat cheese.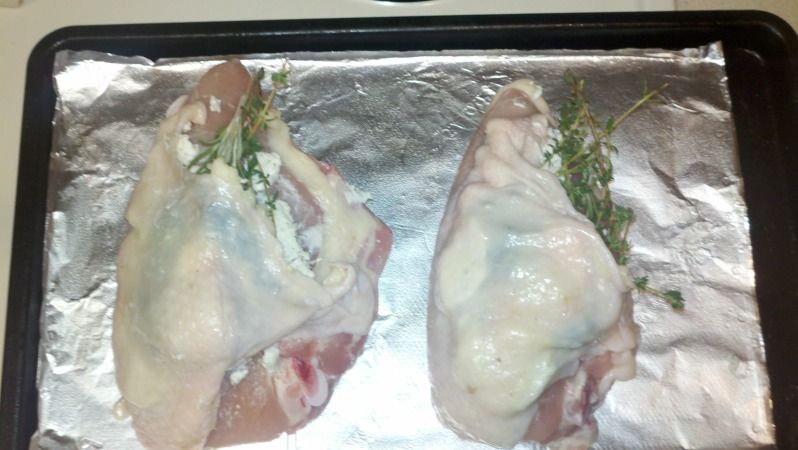 Put in the oven for at least 60 minutes, or until cooked through to at least 165 degrees.
I made quinoa pasta with two kinds of sauce to go with the chicken. I used a packet of Simply Organic Alfredo Sauce to make low fat alfredo, and got some basil pesto paste.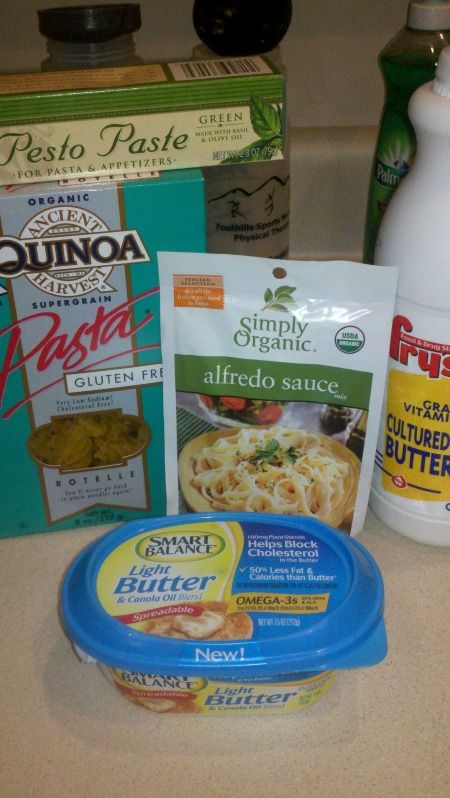 I used low fat buttermilk and light butter to make the alfredo sauce to make it healthier. The directions are on the package. I would probably use regular milk next time. The flavor was a little tart, just like the Greek yogurt was in the sauce from this post. It did turn out good, though. I really liked the pesto, too! It's a simple basil pesto, so you can't go wrong.
I also sautéed some organic baby spinach in EVOO, light butter, and garlic with some salt and pepper.
The end result ended up being fabulous! Cameron told me the chicken was well cooked and he was impressed! He said the chicken was delicious! Hearing those words come out of Cameron's mouth is rare, especially about my cooking!
Two is better than one!
This was really so easy that is makes me want to try it again with different kinds of cheeses and herbs and whatnot. I definitely recommend trying chicken like this! Mom-don't freak out about the skin being on. Once it's cooked, the skin peels right off, and the meat is so much more moist and flavorful!
What are you having for dinner tonight? What is the easiest and quickest (healthy) thing you like to make for dinner when you are pressed for time?
Happy Trails!
Stacey