I woke up this morning, and it was raining and cold outside. I also had a headache, so my morning plans were scrapped. I went to Sole Sports to pick up out shirts for Ragnar and brought them to Jen who is doing the printing for us. I can't wait to show you guys the shirts! They are going to be SO awesome!
I planned on going to CrossFit again tonight, but my hamstring is really tender from running on it the other night. I seriously only ran a half-mile. I am pretty nervous for how this weekend is going to go. I just decided to give my body another rest day since that's what it was telling me it needed.
Instead of CrossFit, I got FroYo and shopped at a cute little clothing boutique I discovered here in Ahwatukee.
I got two really cute new dresses that I look forward to showing you soon. The lady next door at the alterations place is altering one of them because it was too long. She is awesome! If you ever need a quick alteration, she's your lady! Thank God I wasn't up north, because this is what it apparently looked like today on the 101 in Scottsdale!! I can only imagine what kind of insane road stupidity this caused considering what sprinkles of rain do to people out here! SMH…..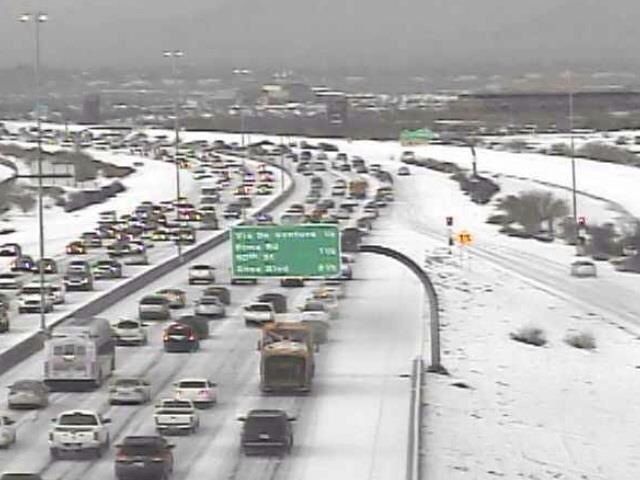 After I finished there, I came home, ate dinner, and packed for Ragnar. I will try and blog a little bit about the packing and necessities tomorrow. I am exhausted and want to get to bed early so I can have a productive day tomorrow. Hopefully no headaches for this one again!!
Have a great night and I hope you have a great day tomorrow!
Happy Trails!
Stacey