After I took my nap after the race, I was VERY hungry! Mom and Dad took me to a place in downtown Louisville called Doc Crows. It is a southern smokehouse with a raw oyster bar. It was absolutely incredible!!
We got shrimp cocktail and crab cakes as an appetizer-both were great!
I got a wedge salad, which is one of my favorite salads when I'm not eating healthy!
Mom got grilled salmon on a bed of New Orleans rice, Dad got a pulled pork barbeque sandwich with awesome baked beans, and I got a Smokehouse platter with ribs, pulled pork and brisket:
A girl's gotta get down and dirty to eat these ribs! There's just no other way around it!
According to the waitress, they smoke the ribs for 5-6 hours, and the pork and brisket for 14-16 hours!! This meat was fall-off-the-bone tender. It made me want to buy my own smoker for my balcony. (Think the HOA would like that one? How 'bout my upstairs neighbors? lol!) The sweet potato fries were great, as well. If you ever have a chance to come to Louisville, go to Doc Crows!! I want to go again just to try the other things on the menu that I was debating on getting. Would that make me a fatass? Haha! I seriously almost ate every bit of food on the platter. Mom got a pic of my almost empty plate:
It's a little bit blurry, but you get the point. Yummy yummy in my tummy!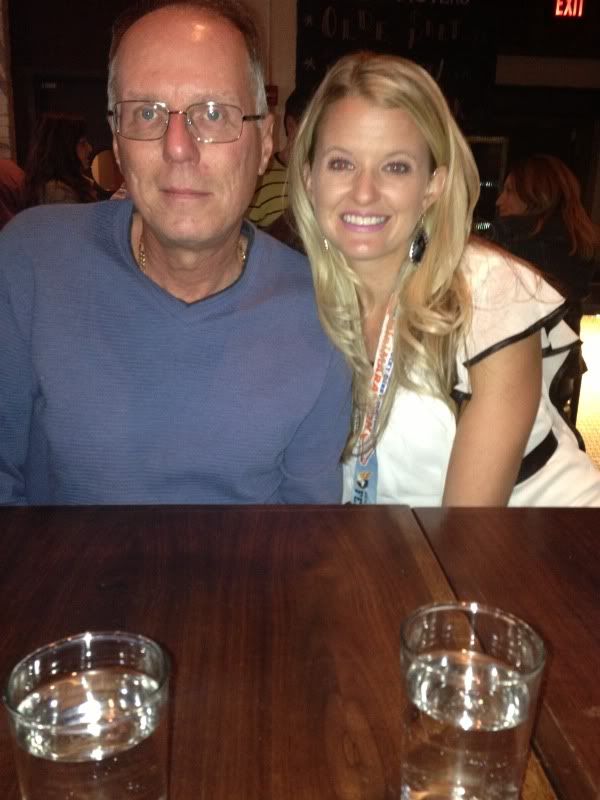 Dad and I in our very stuffed full of food state
I had to get a picture with Mr. Troll in front of the bar next door (and yes, you get to wear your medal all day, everywhere on race day!)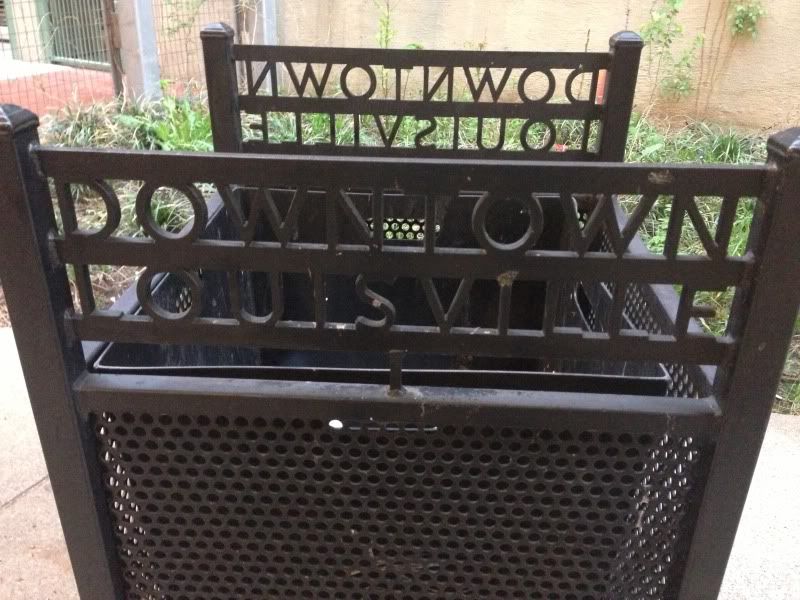 Even the trash cans in downtown L'ville are cool! Yes local friends, I'm a dork
The Yum Center from the side-where my parents walk to get there from their car when they go to games. Yum Center looks like such a cool place! I hope to be able to go there sometime!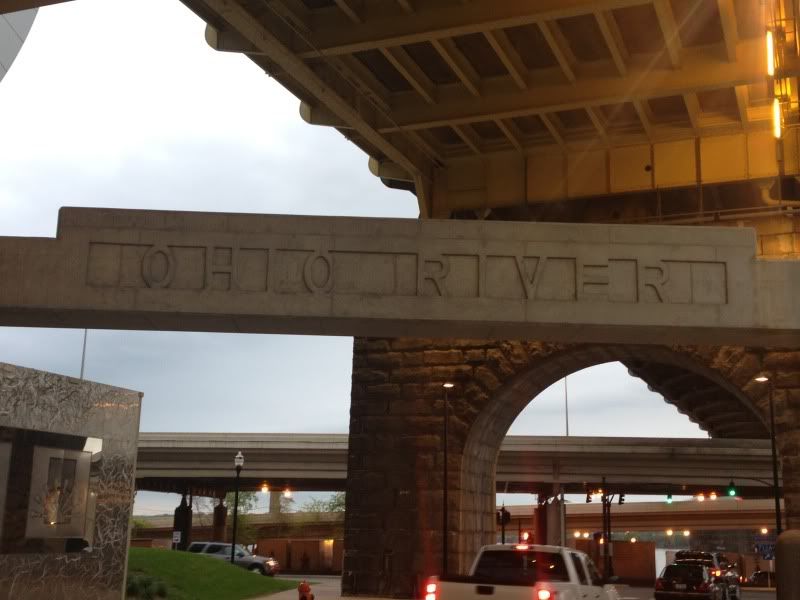 I got a pretty pink shirt from the expo on Friday: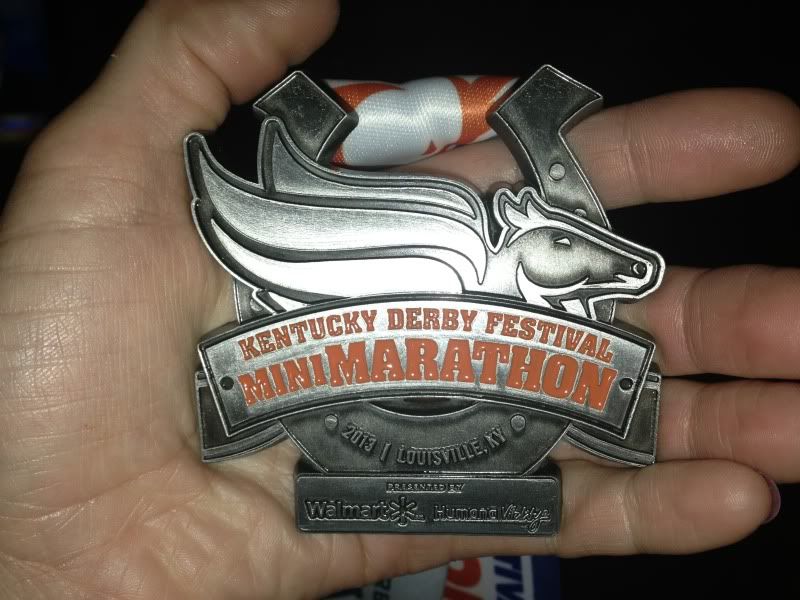 Here's my medal. So pretty! There's a space for it on my holder at home!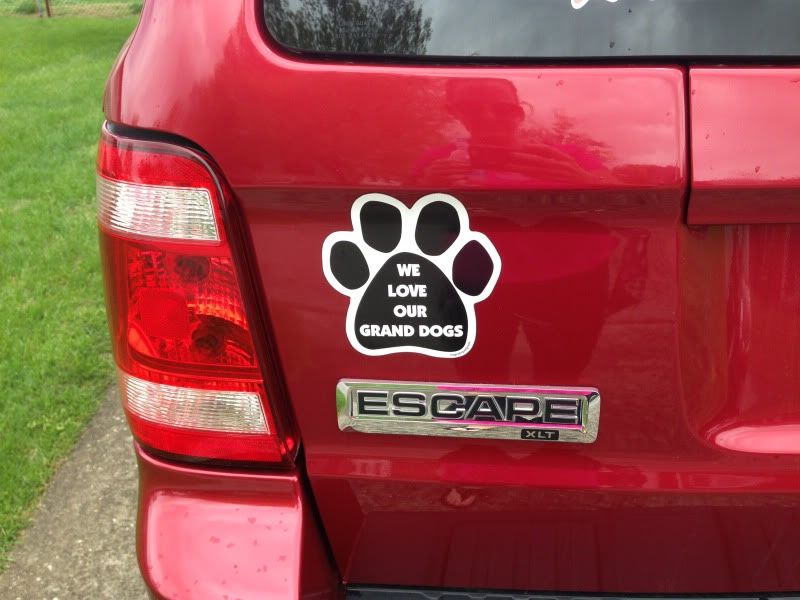 I love it! My parents have the magnet I got them on the back of their car!
I got a massage on Sunday morning to work out my poor body. After that, Mom and Dad and I went to Perrin park in Jeffersonville for a nice walk/recovery run. I did just over 2 miles, the last one I ran with Mom! Then, we fed the geese bread that we brought.
Mom and I made lots of new friends!
The wife of the Perrin family used to collect bears, so there's a bear museum on the property that is open during park hours. It was so cute!
That whole museum was adorable! I really like the bench with the bears, and so did my Mom!
Then, in true Stacey fashion, we went to Clarksville to get some FroYo:
Now this was my first time going to Sweet Frog. I had never even heard of it until we drove by and saw the sign. It was VERY good! I highly recommend this place. The yogurt was so rich and creamy, and I've never seen a toppings bar so big in my life!!
I am so used to having to work hard to get the Nutella to come out of the squeeze bottle, but this Nutella came right out! Whoopsie! It still ended up being SO good!! I had Dulce de Leche, Red Velvet and some kind of chocolate turtle flavor. Definitely check out Sweet Frog if you're ever around one.
So apparently the FroYo didn't completely satiate my sweet spot. We decided to watch a movie, and I went to Walgreens and Thornton's to get some candy. I ended up getting all of this, and eating almost all of it. It was so good and so bad at the same time! That will not be happening again for a long time my friends!
Then, Monday we attended Grandpa Hollen's military burial. It was sad, yes, but for me it was more of an honor to be able to be there. I've never been to one before, and it was very nice.
Grandpa was a World War 2 veteran and was on a submarine in the north Atlantic, among other places all over the world.
We love and miss you Grandpa! You are in a better place, resting with God, and we'll see you when we meet again
.
This cemetery is one of the first 7 created by Abraham Lincoln. It is a Civil War cemetery with a lot of history, What an honor to have a final resting place there. My uncle is also buried here.
Family members got to take the shell casings from the 21 gun salute they did for Grandpa.
I have a friend, Ashley Weber, that makes amazing hand made metal jewelry that is able to make really cool necklaces out of the casings for the girls in the family. I am really looking forward to working with her on this. Her stuff is really great!
After the service, I had some time to chill and get an afternoon snack and pick me up. I had a blueberry rooibos tea and a chocolate cherry healthy bar thing from Quills coffee shop in downtown New Albany. Downtown N.A. has really grown and become a fun place to go! There are so many restaurants and coffee shops and places to eat down there now. I guess this stuff happens when you move away and don't visit often for like 7 years! I was very impressed. The tea was fantastic, and the bar was perfectly filling and yummy!
That evening, I was blessed to be able to have dinner with 3 friends from my high school dance team that I haven't seen in years (like 13 years for a couple of them!) at Bristol in downtown L'ville.
Alysen, Marjie and Mary Kate and I enjoyed a nice dinner and caught up on all the good things in life. What an awesome time! I can't wait to do it again, ladies! Sooner than 13 years this next time, k, ladies? (Whose fault was that now, lol!??)
I had grilled swordfish on top of brown rice and broccolini. It was alright…I really liked the broccolini, though! I've never had it and always wondered what it would be like. It tastes like broccoli, but it's just a little bit more dainty, if you will.
Here we are!
After dinner, I met a good friend out to catch up with her. Jessica and I were good friends in high school, but also hadn't seen each other for years! We determined that the last time we saw each other was in 2006 when I was on rotations. Time sure flies doesn't it!!
It was so great to see her again! We have so much in common, and it's great to know that there are other women out there that I can relate to so much even after not seeing each other for years! I definitely look forward to seeing you again next time I'm in town, Jess!!
I just got home today, and did absolutely nothing. Ok, I threw laundry in the washer like 5 hours ago. It's still there. I took a 5 hour nap, and now I'm going to make dinner and take a shower. I love vacation! I also put my medal in it's special place I had waiting for it:
Safeway has spaghetti squash!!! I am so excited!!!! So I am off to get some, throw it in the oven while I take a shower, and have a spaghetti squash bowl for dinner.
I hope you guys have a great rest of your week!!
Happy Trails!
Stacey